Dear attendee, presenter, convener of the EMS2023,
With the EMS Annual Meeting a week away, we would like to provide you with some updates that may be useful for you:
All attendees
To find the venue and plan your local travel, please check out details on public transport in Bratislava (https://www.ems2023.eu/travel_and_registration/public_transport_in_bratislava.html). Most likely you will arrive on the side of the road opposite the university building and have to use the underpass to get to the campus (look for red roofing) and the entrance banner should guide your way.
Please remember that in any case registration and payment has to be completed online. At the information desk onsite your name badge will then be printed (if you did not have it sent already). The name badge pick-up and information desk will be open on Sunday, 3 September, 15:00–18:00, Monday to Thursday 08:00–18:00, and Friday 08:00–12:00. We encourage all participants to pick up their name badge on Sunday to steer clear of the unavoidable queues on Monday morning.
Wi-Fi: All conference participants will get access to the conference venue's Wi-Fi. Please watch out for the Wi–Fi signs with the network and password information throughout the building.
If you are interested in a Bratislava craft beer tour, do not forget to sign up until 30 August here.
This year's local host SHMU is offering two exciting excursions. Find out more here.
Note the special events on Monday.
Outstanding poster award: New – Public voting! This year we invite all conference participants to contribute to the selection of the winning poster. See the list of participating posters and do not forget to vote: voting opens Monday, 4 September and closes Thursday, 7 September at 17:30, just before the last keynote: https://meetingorganizer.copernicus.org/EMS2023/Abstracts/OPA-applications
Poster presenters
Upload your poster presentation until 31 August to have it made accessible at the E-poster station in the poster area for the entire conference week.
Remember to upload your poster as supporting material, if you participate in the poster award contest. You can still register for the competition today.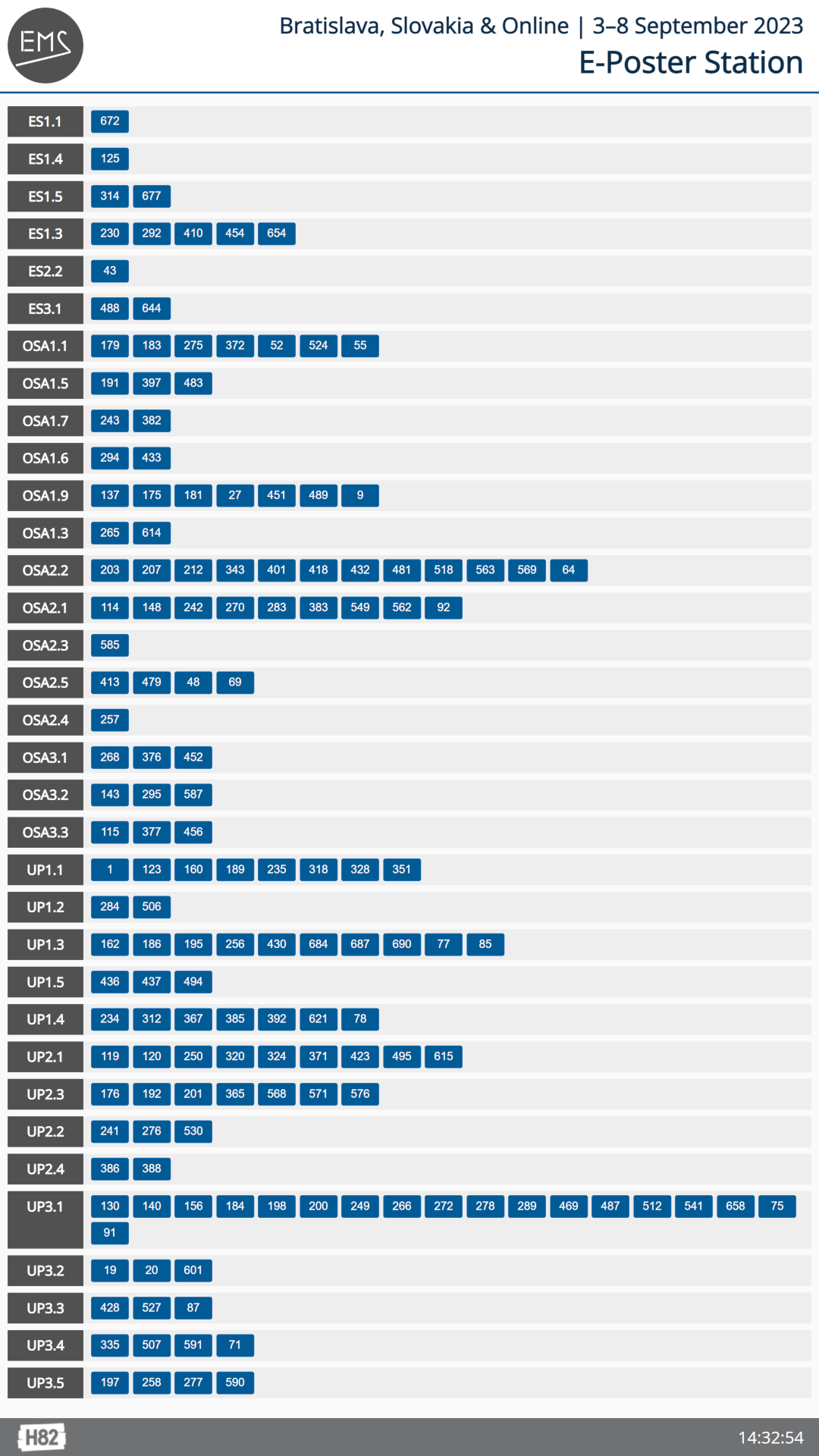 Presenters of oral talks
Conveners
We wish you all a pleasant journey to Bratislava and look forward to meeting you at the EMS2023.
In case any questions arise, please do not hesitate to contact us.
Katharina Huckemeyer and Taryn Riches
Copernicus Meetings
Martina Junge and Dick Blaauboer
European Meteorological Society